Well, two secrets really. And a confession.
But first, look at this goodness: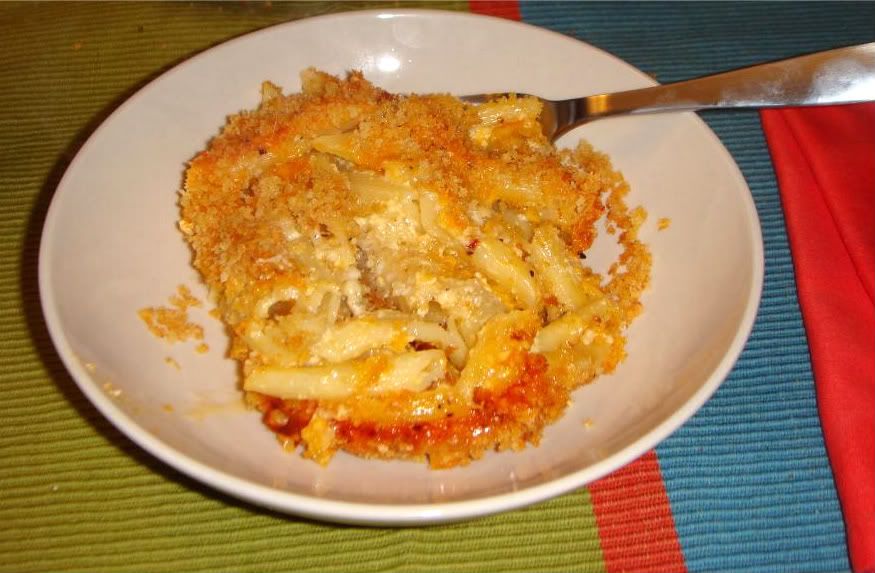 The secrets to making a good baked macaroni and cheese are
1) panko
2) Velveeta
I know, right? You can turn up your nose to Velveeta all you want, but it is the secret to easy-peasy mac and cheese. And that panko stuff, do you know about panko? Panko is Japanese-style breadcrumbs. Instead of being tiny and gritty, panko is bigger and flakier.
But before we get to the recipe and how to use these two magic ingredients: the confession. I don't cook with recipes. Ever. At all. Mostly because I don't like being told what to do. But also because I find it stressful to keep referring back to a cookbook or recipe when I cook.
So here's my "method" for making mac and cheese.
Boil some pasta. I like to rock it old-skool and use elbow macaroni. At the same time, put a big hunk of Velveeta into a sauce pan with some milk (or half and half, whatever you have around) and a couple of knuckles of butter. Let it all melt slowly while the pasta boils. Stir it a lot.
Meanwhile, round up all of the random cheese in your refrigerator. Most anything will do, really, unless you have some really skunky stuff, then save that for another day. Grate the random cheeses, or better get, have your partner grate it. (I cannot grate without serious injury.)
Once your sauce is saucy and your pasta is tender and drained, do this:
Smear butter on the bottom and sides of your casserole dish. Sprinkle panko over the butter. (Do this! It means a crusty bottom and easy clean up.) Add a layer of pasta, ladle some of the sauce over that, add a layer of shredded cheese. Keep making layers like a lasagna, making the top layer grated cheese. Now sprinkle more Panko over the top. Be generous. This will form a crusty seal on the top and prevent your dish from drying out.
Bake it at, I don't know, maybe 350? I bake everything at 350. You know it's done when the Panko on top is golden brown.
This stuff is THE BOMB. But a cheesey, gooey bomb, not the other kind.